Welcome to sbcobirding.com - dedicated to the avifauna of Santa Barbara County, California

Explore checklist metrics: charts, graphs, maps, Hotspots and photos...


This rare Yellow-throated Warbler was photographed at Gaviota State Beach on 20 May, 2019.
Photo: David Levasheff
Yellow-throated Warbler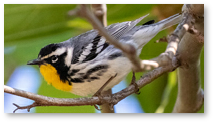 Discussion forum for local bird sightings in Santa Barbara County. Find recent messages at the Groups.io website...


This site is sponsored by the Santa Barbara Audubon Society
Ash-throated Flycatcher © Jerry Ting


The Breeding Bird Study (BBS) employs Google Fusion Tables to provide a database of accounts of breeding bird records in Santa Barbara County. These accounts can be filtered and viewed in lists or maps. This effort now contains input from many local observers. You can participate by submitting breeding bird data to the BBS portal through the Santa Barbara Audubon website.
The Channel Islands Live Bald Eagle Webcams provide an intimate view of the breeding and nesting behavior of Bald Eagles at the Channel Islands. There are currently two webcams available for viewing: Sauces Canyon Bald Eagle Webcam and Fraser Point Bald Eagle Webcam. Check in regularly to see eagle and fledgling activities.
Paul Lehman's June 2019 edition of The Birds of Santa Barbara County, California is now available. This most recent update also includes a new appendix, "The Spring Coastal Seabird Migration, 1970s–1980s." Paul's publication is the most accurate source of information on the status and distribution of county birds. This can be freely downloaded as an epub or pdf file at the following link:
The Birds of Santa Barbara County